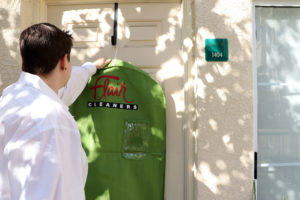 Life today is hectic enough. Wouldn't you like to eliminate your stops at the dry cleaners? We designed our home pickup and delivery service with your free time in mind. Our drivers pickup and deliver twice a week – at no additional cost – so you can spend more time doing the things you enjoy.
Already a pickup and delivery customer?
Here's how Pick Up & Delivery works:
Sign up using the form below, through our mobile app, or at your local Flair Cleaners.
Once we have confirmed that you are within our service area, a Flair team member will call you within 48 hours.
Our driver will drop off two personalized bags and a convenient door hook during your first week of service.
Schedule your pickups by text message, by email, or with our mobile app.
Leave your bags on the hook or in a pre-arranged location by 9:00 a.m. on your pickup day.
We'll return your freshly cleaned items on our next visit, and pick up additional items if needed.
No minimum order. You simply pay for the services you use.
Your credit card on file will be charged automatically on the day of delivery.
Sign Up For Home Delivery
* denotes required field