We need your help! The ongoing pandemic has put many of our neighbors at risk when it comes to hunger and to not having enough food to feed their families. Please, join us in our 6th Annual Hang Up Hunger Food Drive and help us support the Food Pantry, LAX, the Santa Clarita Grocery, the Salvation Army in Santa Monica, and the North Hollywood Interfaith Food Pantry.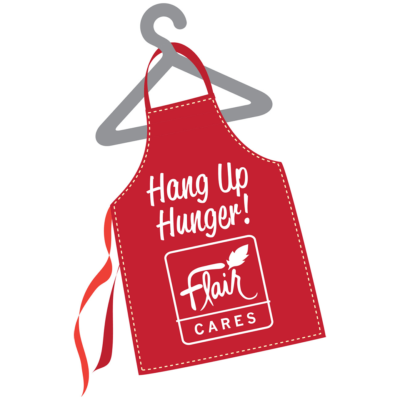 Bring your non-perishable cans, boxes, and bags of food to any Flair location from March 1 to March 31. Everyone who donates will receive a coupon for 50% off dry cleaning on a future visit. Flair will match donations with up to 250 pounds of food at each location.
Please check! No expired food. No glass containers.
Foods Needed Most
Canned Beans, Vegetables and Fruit
Canned Meats and Fish (beef stew, chili w/meat, chicken, tuna)
Canned Pasta
Canned or Dry Soup
Cereal
Fruit, Cereal, and Energy Bars
Condiments and Sauces
Cookies
Cooking Oil
Dry Beans and Pasta
Dry Milk
Oatmeal
Peanut Butter
Ramen
Rice
Thank you for your support in mitigating hunger in our communities.
Flair Cares
At Flair Cleaners, the well-being and satisfaction of our customers, the environment, and the community are our top priorities. Put simply, Flair Cares.
Caring for the environment is one of our highest priorities. Flair is a leader in the use of the non-toxic, odor-free GreenEarth Cleaning method, which not only protects the environment but keeps clothes looking and feeling new. To help our customers reduce waste, we provide free Hanger Recycling Caddies and offer The Better Bag, a reusable garment/duffle bag. And, Flair is one of the few Certified Environmental Dry Cleaners in Southern California. Learn more
We are proud to be active in the communities we serve, and we take our responsibility to be good neighbors seriously. We work for positive action – bringing together our employees, customers, and the community to improve the lives of others. Learn more
At Flair, our number one priority is your satisfaction. We strive to deliver outstanding customer care and the highest quality dry cleaning and laundry services. If you have a problem, we will solve it. After all, we want you to live your life with Flair! Learn more